| | | |
| --- | --- | --- |
| Aircraft Nickname | DATE Location | REMARKS: |
| 64-13151 Stump Jumper | Aug'66 Vung Tau | Ground taxi / blade strike. (LOSS) |

I asked Paul Neiswonger if he was there when Stump Jumper was lost and he replied, "Yes, I was at Vung Tau when the 2 ships collided while taxing. Stump Jumper was the only one that was badly damaged. It flipped on its right side and broke in half just forward of the engines. That's when Cost Of Living was called for and sent over from the states." Paul was a Winged Warrior when it was still 11th Air Assault at Fort Benning. He deployed with the 53rd Avn Det. from Benning to Nam as the NCOIC of Armament, Ammo and Gunners. This photo was taken of Paul in An Khe - Sept 1966.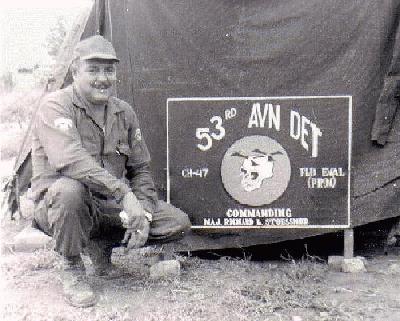 "05 Aug 66 - Accident Summary: Aircraft 64-13151 (Stump Jumper) was taxing for take off when its forward rotors struck the aft rotors of a parked CH-47 aircraft causing major damage. There was major blade damage to CH-47 64-13154 (Birth Control) and minor damage to CH-47A 62-2118." (from Gary Roush's VHPA database) (tail number verified from a photo by Paul Neiswonger)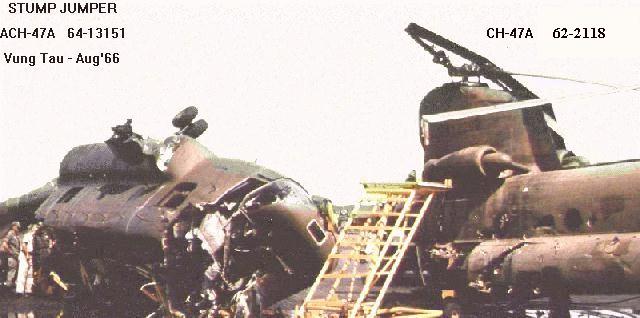 Photo is courtesy of Art Thornburgh, 1SG, (Ret). He was a UH-1B Crew Chief in the Big Red One at the time. He did not see it happen, but arrived there shortly afterward and took this photo within a few hours of the accident. This was the only photo available until Paul Neiswonger sent the bunch that I added below...




Paul Neiswonger went over with the 53rd and came home at the end of the TDY period. He had prints made from slides and mailed them to me. I scanned the prints and mailed them back. The "Lucky Rascal" is close enough to Fort Eustis that he has been to visit EASY MONEY during her restoration at Felker AAF.
stump1st ( First photo of "STUMP JUMPER" combat artwork )
stump151 ( Large B&W photo like above, but with more detail and tail numbers )
stump-01 ( Forward Crown (Go-Go logo), transmission/rotor head assembly )
stump-02 ( Without the forward transmission area, you look right into the cockpit )
stump-03 ( Look into the forward cabin from where it broke in half. )
stump-04 ( Stump Jumper and 22118. What a mess for no one to be killed. )
stump-05 ( Check out the "open-air" look of the aft section of cabin. )
stump-06 ( One last look at her bottom. Still amazed she broke in half )
stump-07 ( 1SG Obernier with Stump Jumper - what a mess... )
stump-08 ( The other end of Stump Jumper, clearly it is #151 )
stump-09 ( Good photo of #151's artwork after it was removed from flight line )



Paul - you better be nice or I will publish the other photo. The one of you,
Downs, Porter, Hall, and 1SG Obernier -- all in your underwear!

Well - I just believe I will. Here it is. Is this a hansome bunch, or what?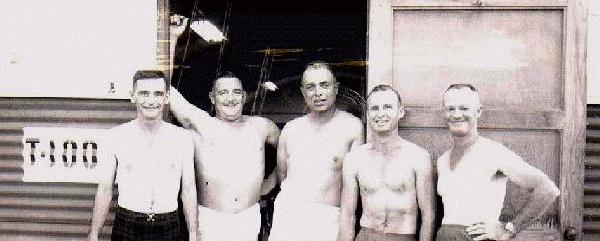 From left to right: SSG Gary Downs, SP6 Paul Neiswonger,
1SG Myron Obernier, SP6 Willie Porter, SP6 Clarence Hall.

| | |
| --- | --- |
| | If you have additional Guns-A-Go-Go information and/or pictures that you would like to share with this web site, please email: Jim Ketcham. |