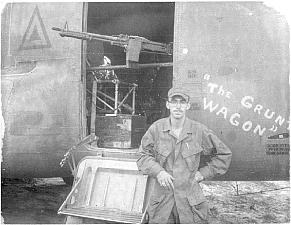 Larry L. Costley SP4 - 27 Jul 47 - 3 Oct 68
Flight Engineer on CH-47A 66-19041
"The Grunt Wagon" Larry's crew and all six passengers were killed in a "mid-air" with a C-7A Caribou at Camp Evans. The Grunt Wagon was on the daily shuttle run and had just departed LZ Nancy and was landing at Camp Evans. All personnel aboard both aircraft perished. Larry Jr. was born after his dad left for Vietnam and provided these photos.
The crewchief killed in this crash was:
SP5 Jerry L. Pierce, Jr.